Skydive Index


Pearls on the Net
The Dead Mike Homepage

AvStop Magazine

Skydive Swoop


Features
Skeff's Skydive Photo Gallery
Skydive Cross Keys
The Golden Knights
- The Inside Track -


Your Stories
Gravity, Earth Versus HeadHunter
First Out - A First Jump Story
Jan's Tribute to her Dad

Wanted!
[updated: 06/26/00]
Staff & Jobs read more...
Team Members read more...
Stolen Gear read more...
Miscellaneous read more...


Shop Zone

Skydive World

Greeting Cards

Skydive Forum

Skydive Books
Beyond Skydiving


Treasure Chest
The Map Machine

You're Probably Lost
Adventure Divas



Featured Sites
Dive and Discover

The Onion

Constructor


Archive

Contact


Not just a translation but some different content too!





© 2000 Mike Skeffington

High Performance Family
World's Youngest Skydivers
We read much in the business literature about "high performance teams" and what it takes to get things done in the business world by working together. Synergy is the buzzword most often used, the sum of each of the parts equaling more than the individual values of the parts themselves, people pooling their resources to achieve amazing things.

Taking that concept further, how about high performance families? If there is such a thing, the Mullins clan would certainly fit the definition. Truly a family of overachievers, each one mastering the skills he does best. Synergy would be the only way this would be possible for the pressure could be intense in a family such as this one. Yet, by working together, it seems they make "child's play" of accomplishment.

This past weekend at West Tennessee Skydiving, I had the pleasure of meeting this entire clan and maybe getting just a glimpse into what true family-style values are all about. I never encountered such a family as this one in my life! The three older Mullins kids were jumping their butts off all weekend. On just about every load they could be found. Freeflying formations, canopy swoops, high performance landings, doing all those things they do best.

The youngest Mullins jumper, Jeffrey, 13 years old, just made his 1000th jump a few weeks ago and easily put another hundred in his logbook since then. Joel, the 17 year-old is quickly catching up, though he lost some time last year due to a biking accident and a badly busted up knee.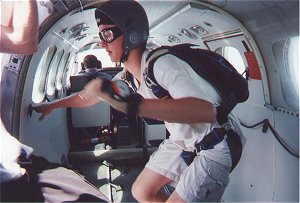 Charlie ... well, Charlie is Charlie ... flying that tiny handkerchief of his, always making that perfect swooping landing to the glee of the spectators. Such skill can only be honed over thousands of jumps, most of which, if not all, taking place out of his dad's plane. Charlie is 22 years old and already has 6600 logged jumps.

Then there's Mike. A pilot for some 35-plus years, it's easy to see why that airplane of his is almost an extension of his being. "Mike can do anything he wants with that plane," one of the West Tennessee regulars told me as I was standing at the boarding gate, a bit hesitant to take my first observer ride. "You'll never find a better pilot," he assured me in answer to the questioning look in my eyes. Lord, I like to have fun, but I don't wanna die this weekend!
Continued on Page 2


Last Update: June 26, 2000
News & Articles


Current News
[updated: 06/26/00]

Competitions
Speed Skydiving in France
CRW World Championships
& Skydive Festival 2000

Spanish Open 2000

Canadian Nationals 2000
Competition Rules
More Competitions
[updated: 06/04/00]


Boogies & Meets

4th Of July Boogies
Summer Boogie in Italy
Flyboyz Film Festival

All American Boogie

Kjerag BASE Boogie

More Boogies and Meets
[updated: 06/04/00]


Events & Courses
121-Way Jewel in Brazil

CF Spektakel 2000

Jump for Joy and Balloon Jumps

POPs Record System

More Events and Courses
[updated: 06/26/00]


NSL News [USA]
[updated: 06/26/00]
This week in the NSL


SSI Pro Tour
[updated: 06/04/00]
What's new in the tour?
Freefly & Skysurf Events 2000

Safety Issues
[updated: 06/08/00]
Jump Plane's Engine Burned

First Time Jumper Flew In Wind Turbine

German Student Fatality

Fatality in Finland

The Most Dangerous Part of Skydiving

Fundamentals of Freefall Drift and Separation

Safety News Bytes

Newsletter

World Weather

Guestbook

Send this Web Site