Index


Pearls on the Net

Features

Your Stories
Beyond Skydiving


Treasure Chest


Featured Sites

News & Articles


Current News


Competitions


Boogies & Meets


Events & Courses

NSL News [USA]

SSI Pro Tour

Safety Issues

Wanted!

World Weather


Newsletter

Shop Zone

Skydive World

Greeting Cards

Skydive Forum

Skydive Books

Your Gallery


Contact

Archive

Guestbook


Web Design by
Netword-Project
© 2000
On this monthly page we feature whatever you can think of or what you might suggest to us. These suggestions can be about people, teams, drop zones, software, books, videos, games, and...and...

Skeff's Skydive Photo Gallery

Cameraflyer Mike Skeffington began jumping in 1994 and now has 4700 regular jumps and 4200 camera jumps to his name. His photo web site contains shots he has taken in the 1998, 1999 and 2000 skydive seasons. On this rich photo site you will find TONS of photographs of Big Ways, World Record Skydives, Freestyle, 4-way, skysurf, and freefly! All exhibits before November 1998 were shot with 35mm cameras, but his images currently are shot in Medium Format for even greater image quality. This increase in size results in far better print enlargements than are available with a 35mm format.





© 2000 Mike Skeffington

If you're looking for a neat collection of skydive photos, or just feel like browsing, check out this great collection of a cameraflyer's work at http://www.skeff.com.

But Skeff is not only a camera flyer. He is also the new dropzone manager of Skydive Cross Keys in New Jersey.


Skydive Cross Keys
Skydive Cross Keys has become one of the most progressive skydiving centers on the East Coast! Home of Freefall Adventures Skydiving School, this full-service drop zone offers the highest quality instruction given by a very experienced staff. Averaging over 45,000 skydives each year, Skydive Cross Keys is recognized worldwide as a premier skydiving facility for students, experienced jumpers and professional teams.

The drop zone has a permanent King Air with a turnaround time of about 13 minutes to 13,500 feet, and a Frankenotter with a turnaround time of under 11 minutes. Also, once a month and on special occasions, the Casa will be around.

Enjoy events galore this year with special organizers like Derro Thomas, Pete Allum, Deland Genesis -- some names which spring to mind. A bunch of full-time packers and a rigging shop are also on hand. This full-service rigging facility not only packs reserves, but can do everything!

Skydive Cross Keys also is the home of the Monkey Claw freefly school. These guys are US National freely champions, and the Surf Flite skysurf school with Dave Briegs, a US National skysurf champion and X-Games competitor. They also offer CRW coaching from Mark Kruse, former member of the US National Team and Skeff, 11-time UK National Champion. And for all the flat flyers of all experience levels they have organizers and coaching including Skydive University.

This is a great place to be in the summer. A nice warm sunny climate, good planes, good staff and most of all great fun. Check out their site to find out information about the facilities, the instructors, and more!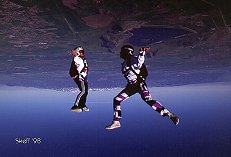 Photos by Mike Skeffington © 2000

The Golden Knights - The Inside Track
Photos © 2000 Joseph White

Get a rare look inside the U. S. Army Parachute Team - the stars of the show - the "Golden Knights" as you discover their world. This e-book by Joseph R. White, father of a "Golden Knight", truly is "the inside track" on the life of a Golden Knight and offers little known details and insights!

Follow the Golden Knights through their yearly cycle of selections, winter training, exciting demonstrations and competition seasons as you learn the traditions, routines and the professional fine points making up the mystique of one of the world's best skydiving teams.

Are you one of the millions of people who watched the Golden Knights Army parachute team perform their aerial magic at airshows? This e-book invites you to come along with the Knights and learn their story as you follow them through the year: their training, their maneuvers, their traditions. There are loads of facts and details that will let you become an expert on this great skydiving team! The Knights' Sergeant, Major Gary Mohler, says: "Joe's covered it all. It's true, it's accurate, and factual." Also in this book is a complete roster of all team members, past and present. Note: This 100-page book is in .pdf format and is readable across all platforms. For a free sample extract, email the author Joe White at whiteops@worldnet.att.net

The e-book about the "Golden Knights" costs $8.95 and is now available at:
http://www.booklocker.com/bookpages/jwhite.html
http://shop.barnesandnoble.com/booksearch/isbnInquiry.asp?userid=67KQJOMHY4

It is also available on CD-ROM (Price $18.95) at Amazon:
http://www.amazon.com/exec/obidos/ASIN/192907249X/