Skydive Index


Pearls on the Net
PsychoCirkus Freefly Team

Skydive The Point History

Headdown.net Sweden

Features
Flying Eyes Productions

Skydive Spaceland

Australian Mailing List

Your Stories
New Year's Jump at Lodi
POPS Meet Event Report

Shop Zone

Skydive World

Greeting Cards

Skydive Forum

Skydive Books
Beyond Skydiving


Treasure Chest
Chickenhead

The Palace
Internet FAQ Archive

I-Drive Free Storage



Featured Sites
The Crumb Museum

Basquiat.net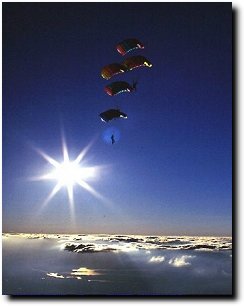 © 2000 "Oscar" - Flying Eyes Production

Venezuela Boogie 2000
Jump for Venezuela
Exotic Sky Adventures which has been organizing Tropical Boogies since 1992 at different exotic locations in the world is organizing another Tropical Boogie from February 21 until March 5, 2000 at Higuerote, 140 km west of Caracas in Venezuela. They will provide a full program of fun-filled, top- class skydiving days and entertaining evenings.

In conjunction with their Boogie activities, Exotic Sky Adventures will organize a humanitarian action called "Jump for Venezuela" which is intended to the welfare of the victims of the recent disaster that has "hit" Venezuela.

In order to help the victims of that disaster, ESA will follow a 3 point program:

1. All Boogie participants will bring with them donations such as clothing, toys, food and any other material goods that will be appropriate to the Venezuelan population in need.

2. ESA will organize a tombola with major prizes, and the benefits of that tombola will go to the Venezuelan Red Cross or other relief organizations to be announced.

3. ESA will contribute to the relief organizations medical supplies as well as a portion of the profit from the skydiving jumps that will be made while in Higuerote.

They hope to have substantial media coverage for the "Jump for Venezuela" cause and, above all, they will be honored to play a small role in the rehabilitation and welfare of the victims of that disaster.

Suggestions, help and ideas are welcome. Please email ESA at skydive@exoticskyadventures.com. Larry Henderson will handle the logistics and coordination of the humanitarian action.

Cypres Giveaway
Skydive San Marcos in Texas is happy to announce a new program they call the "Brad Slager Memorial Cypres Fund". The way it works is this: 25 cents from every jump ticket purchased goes to an account earmarked for purchase of a Cypres AAD. When funds allow, a winner will be drawn from all purchased jump tickets.

The catch is the winner MUST own a rig and NOT have an AAD installed. In addition, the Cypres will not belong to the winning person but will still belong to the Brad Slager Cypres Fund. If the winner should decide to get out of the sport, sell their rig, or just decide they no longer have use for the AAD, Skydive San Marcos will uninstall it, draw another name, and give somebody else the use of an AAD at no cost to them under the same stipulations.

After the loss of one of their very good friends involved in a midair collision, the management and all of the jumpers at Skydive San Marcos feel that this is a way to keep Brad's name and picture of an ever-smiling face fresh in their minds and to show their support for a safer sport.

Skydive News


Current News
[ 02/14/00]

Competitions
Valentine's Money Meet

Para-Ski Nationals Canada

Speed 60 Competition

More Competitions
[ 02/14/00]

Boogies & Meets
Rec.Skydiving Boogie

Patrick de Gayardon Memorial Boogie Hawaii

Freeze Fest Boogie

More Boogies and Meets
[updated: 02/01/00]


Events & Courses
Daytona 5000 Canopy Challenge

Canopy Camp At Lake Wales

Texas POPS Record attempts

Skydivers Unite for Safety

More Events and Courses
[ 02/14/00]


NSL News [USA]
This week in the NSL
[ 02/14/00]


SSI Pro Tour
What's new in the tour?


Safety Issues
[ 02/14/00]

Fatal Accident in Spain
BASE Jumper drowned
Fatalities start off the Y2K
180 Days Reserve Repack Cycle in Canada
Cypres News

World Weather

Editor's Notes

Archive



...not just a translation
but some different content too!
Cast a vote for
skyXtreme