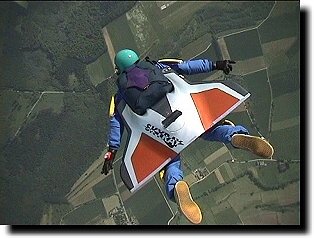 © 1999 FREESKY-Team

SKYRAY
A new innovative piece of equipment for skydivers.

Ever dreamt of flying? But not surrounded by aluminium, glass, wood, textiles and with a control stick - No! - with your nose in the wind, intuitively flying with the whole body.

The SKYRAY is a piece of equipment for skydivers which is currently being developed by the FREESKY-Team and is the result of 3 years research and development. In collaboration with the University of Applied Science Munich, numerous studies and tests in the wind tunnel with solid and soft (RamAir) systems have been carried out.

The core objective of the development is to ensure the safety of the skydiver at any time and under all conditions. According to these criteria, from all of the possible alternative configurations, the rigid wing has been chosen. Besides the best performance and high manoeuverability, it also offers the possibility to detach the complete lift-system from the diver with one flick of the wrist. So after being detached the skyray won't obstruct the diver from dealing with any eventualties.

....read more on the SKYRAY's website

.

They did it...NEW WORLD RECORD!
At 11:55 a.m. on September 5, 1999, a 118-way all-women formation was built over Perris Valley, California and held for 3.46 seconds.
Congratulations girls!
For photos go to http://www.jumpforthecause.com

Jump for the Cause
The most exciting Women's World Record Event to ever take place.
Over Labor Day weekend 1999, September 1-9, 140 of the best women in the world will be gathering at Perris Valley Skydiving to attempt a Women's Freefall World Record. In addition to building the largest all-female skydiving formation and setting a World Record in this category, this event will raise funds for the Susan Komen Breast Cancer Foundation, who's stated mission is to eradicate breast cancer by advancing research, education, screening and treatment. Breast cancer is the leading cause of death for women between the ages of 35 and 54.
This event is organized by "Square One Parachute Sales", the industry's largest retailer and "JumpRun Productions," the leading media/ cinematography relations company.
Internet coverage can be found at:
http://www.wecu.com --> Live Webcam
(camera fliers are jumping live video transmitters) and
http://www.omniskore.com for Tim Wagner's tidbits.
Become a sponsor or donor! Get involved!
http://www.jumpforthecause.com
Participating Drop Zones