[Back to Index]


POPS record over Skydive Palatka
By David Laidlaw
Congratulations to all you old guys who completed a 25-way over Skydive Palatka this afternoon, Saturday, June 3rd. Sorry, Lake Wales.

From three King Airs, on just the second attempt, the following 25 jumpers completed a planned 25-way freefall formation (a six-way donut base with weed-wackers) and held the point for about 14 seconds as recorded by three video/photographers.

The over-40 group was organized by Larry Elmore, John Greenwood, Joe Morgan, and Billy Weber.

Participants included:
John Greenwood, Mike Wadel, Johnny Sumner, Larry Elmore, Dennis Read (Who broke the record on his 1000th jump-Congratulations!), Dene Berry, Mike Lutrell, John Wright, Bill Hector, Alan Mastin, Tim Harber, Mike Barnes, Jay Vass, Tom Balboni, Paul Bliss, Sarah McCarthy, Billy Weber, Sam Bussey, Lee Edmonson, Gordon Hardage, Ronnie (R.J.) Smith, Joyce Smith, Dean Vaughn, Joe Morgan, Mike Whalen.

All of whom have the dubious distinction of surviving many many years in the sport, and living into their forties (wow, that seems soooo far away).

Pilots included Bob Adamo, DZO/Chief Pilot Mike Rouse, and the awesome Jimmy Teters. Mike and Jimmy are also POPs, as were two of the three photographers; Van Wideman and some really nice guy named Norman Kent, who may have taken a photo or two at some point in the past.

A planned 28-way came up just one short on the third formation load, but came close to completing a second point round.

My congratulations to all participants, and my thanks, for letting this one punk kid come along and play with my cameras and with you. Please sign me up for the first POPS records of February, 2014. Until then, I'll keep practicing.

David Laidlaw
[Back to Index]



New Videos

Night World Record at Elsinore;

A video and still package from the 2000 night world record at Elsinore is available. Mail Gary Roth at REPACK1@AOL.com for details.

.
The Cloud's Edge

The Cloud's Edge, a new skydiving film by "New Tribe Entertainment" offers a little bit of all. Produced by Larry Kershenbaum, the owner of Skydive America Palm Beach and Olav Zipser the father of Freeflying and drive behind the Space Games and The First School of Modern Skyflying, it opens the door on some of the best flyers in the world. The film includes some of the newest styles and moves in freeflying and some great footage of technical big ways of up to 34 jumpers with 15 grips over Vichy in France.

Check out Dropzone.com's Raffle on how you can win a copy of the "The Clouds Edge" Video.
[Back to Index]



News from the Shop Zone
Great all cotton T-Shirts for sale from the Australian B.A.S.E. Association. Price: AUD $30.00. (Approx US $18.00.) plus postage. $5.00. from each shirt goes to the "It's Our Park Too - Dennis McGlynn Fund." Payment by VISA, MasterCard and checks. You will find an order form at http://www.iinet.net.au/~miller28/shirt.html Check out the Australian B.A.S.E. Association's site at http://trak.to/base.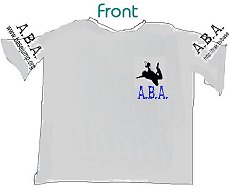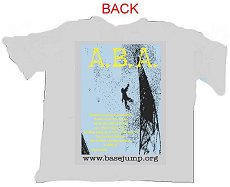 **********
Idea Factory lets you surf the skies. Not a lot of information here, but there's a quick preview of a skysurfing video game coming out at some point in the future over at http://ps2.ign.com/news/17397.html