The Swiss-American Yahoo! duo launched their attack in round one by posting a 97.0. This enabled them to get out in front of a very competitive field of determined teams who were forced to play catch up. And that's exactly what Rozov and Burch of Moscow very nearly did. Starting off with only a 91.0 for the first round, the 98 X Gold medalists steadily chipped away at the leaders over the next several rounds as Yahoo posted relatively lower scores.

The ultimate moment came in final round six when Rozov gambled. He decided to "go for it" and attempted to begin the dive with the more difficult reverse torpedo. But the move flattened out (slowed down) ever so slightly causing some extra separation in the fall rate, then accelerated unexpectedly as the move reversed naturally. Veteran cameraflyer Clif Burch flew his ass off to compensate by floating back up, then down, but the extra time they spent correcting the gap in proximity meant their famous big finish move (Rozov spinning railgrab) did not begin until after time had elapsed and subsequently did not count.
While most teams would gladly accept the generous 93.0 score Moscow got from the judges, their sixth round score was just lower enough... coupled with Yahoo!'s very clean sixth round performance and a score of 95.8... to put the Russian-American pair firmly in the Silver medals.

So where were the defending champs you ask? Eric Fradet and Alex Iodice of Team Skydive America were right there on the leaders heels as well. The French pair started off in second behind Yahoo!, but spent the rest of the meet playing catch up after an "off" third round score of 87.6 knocked them out of any real contention for gold. However, their tenacity paid off for third, and had either of the top two faultered, the '99 X games winners were ready to swoop a slot.... or two!

The final placement makes Burch the most highly decorated XG skysurf athlete in history with two golds, a silver and a bronze. Burch and Eric Fradet both have four XG medals and are the only athletes to have been to all six X Games.

This was the first time the final five teams from the field of ten advanced to make two more jumps. Fourth place belonged to veterans Oliver Furrer and Marcus Heggli of Team Perris-Pulse who posted consistent scores in the low 90's.

The title of "Cinderella team" went to Tim Glas and Heiko Böger of Team Phoenix. In their first ever X Games, they posted inconsistent scores, but still edged out three more experienced teams for the fifth and last slot in the final rounds.

Those just missing the cut included Tanya Garcia-O'Brien/ Craig O'Brien of Perris Valley Firestarter and Dave Briegs/ Jack Baum of Cross Keys Inferno and Cédric Dumont/ Sábia of Azul do Vento/ Matter.

Also making their debut at the X Games were the South Africa duo of Hilton Roos/ Wayne Peinke of Skydive.com, some new boys from Brazil, Thiago Minniti/ Joao Tambor of FreeX Surf Style. And for the first time, the Alternate Team, Keith Snyder/ Rook Nelson of Chicago S.T. L. also shared in the purse.

For details, complete scoring, a diary by Richy Koscher, videos in quality Quick Time or Real Player, and lots more go www.ssiprotour.com!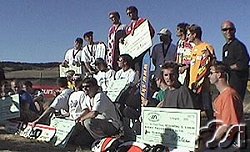 Photo © 2000 Richard Koscher Photo © 2000 Brian Erler
Check out the Freefly and Skysurf events worldwide at the Event's Page!