New Record for All-Canadian Formation
by Liz Mann - Liz@Skydive-Ontario.com

The new record for all-Canadian formation over Canada is 54!

The Team Canada 100 record attempts took place August 1-4, 2000. On the ninth attempt, Canadians at Burnaby Skydiving built a tight 54-way and held it for over seven seconds. They had already built larger formations, with one or two people out each time. The discipline and flying skill of even the less experienced jumpers was surprising. But we relied on good examples of flying from the many senior jumpers there. Clear instruction and positive encouragement on the part of organizer Lyle Presse and plane captains Bruce Robertson, Jeff Gemmell, and Mike DeWit were largely responsible for the Canadian success.

It was hard won. Weather was not always cooperative, and jumpers often found themselves with long stand-downs and exhausting days of sitting and waiting. But the upbeat attitude of the organizers kept everyone believing that a record was possible.

After the Friday morning new record was established, the group went on to learn even more about big-ways. Many low or no experience skydivers performed very well, and nearly built a 69-way. Now there is something to shoot for! Lyle said it best though. He said the entire event should be looked upon as a learning camp, with a goal of making a 100-way in the future!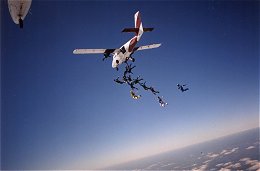 Photos © 2000 James Hendry, Skyjam Photography
Safety

Lyle organized dirt diving and mental rehearsal in a way that made clear the need to follow instructions exactly. A combination of this good coaching and the commitment of all jumpers to follow safety rules eliminated the main fear of most participants: the crowd in the sky. Break-off was well organized and there were only rare complaints of crowded airspace at pull time. Jumpers were very generous with the large landing area. Since this huge concern was so well addressed, all jumpers had more mental energy to commit to performance.

Organization

Lyle Presse organized the skydive, itself, and built the center of the maple leaf. The entire formation can be seen in the 100-way logo. Lyle was also the captain of the lead plane, and flew base. The 3 other planes were captained by Bruce Robertson (left chase), Mike DeWit (right chase) and Jeff Gemmell (rear). Each plane captain took on instructional and organizational duties for his group and provided needed encouragement for everyone. All Captains are Canadian, but Lyle and Bruce made the trip from Florida to participate! Lyle was so happy with the performance of the participants that he said he is now committed to a Canadian 100-way in the future and will be back next year!

Canadian Firsts

During the Nationals, which preceded the record attempts, we saw for the first time two Twin Otters flying back-to-back loads on a Canadian DZ. It was thrilling! But nothing compared to the excitement of being inside one of four Twin Otters flying in formation over a Canadian DZ! The planes came from all over the east coast, including Xenia and Sebastian, and the last one to arrive was the celebrated FrankenOtter! The pilots were amazing, finding a hole in clouds, spotting dead on, and flying tightly and consistently. Every single person at Burnaby Skydiving for this event now owes "beer" for seeing the biggest skydiving formation AND the biggest Twin Otter jump plane formation in Canada!

Future

Lyle Presse committed a great deal of personal time to come and organize our record attempts, and he was very enthusiastic about the big-way camp and the skill level of Canadian skydivers. As we wrapped up the last debrief, Lyle said: "You've got me hooked on this idea that we can build a 100-way, and from what I have seen this week, there is no doubt in my mind that, with a little more participation, we can do it easily."

With that goal in mind, he suggested that people on DZs across the country could organize smaller chunks of the formation, so we could put it together more easily when we meet again. He also suggested that he would run big-way camps for practice over the winter in Sebastian.

Mike and Tara Pitt, who hosted the entire event, are still committed to the Canadian 100-way, and announced this week that they are now in the process of booking the planes for next summer at Skydive Burnaby! We owe them a great debt of gratitude for continuing to take risks, and betting everything on our success!

Keeping In Touch

There are two ways to keep in touch with big-way news and upcoming practice camps. Check regularly at the website Skydiving.com, where Lyle will post upcoming camps, and the latest plans. Contact any of the organizers at the email addresses below. And, subscribe to the newsletter at the CSPA's web site at http://www.cspa.ca/ where you will find contributions from plane captains, the DZO Mike Pitt, Tara's Travel Tips, dates, links, the latest news, and answers to your questions.

See also Liz' article about "How to get on a Big Way".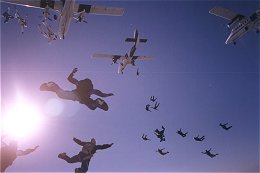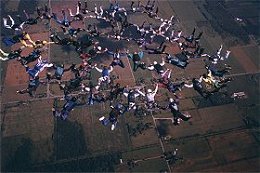 Photos © 2000 James Hendry, Skyjam Photography
------------------------------------
Spotlight: on Mike Pitt
------------------------------------

So, who is this guy, organizing a Canadian Record? Skydivers in Canada often find leadership in people they have never met. Let's meet Mike Pitt, organizer of the record attempt, and owner of Skydive Burnaby.

Born in Welland, Ontario, and growing up minutes from the St. Catharine's Parachute Club, near Port Colborne, Ontario, Mike always knew what was happening on the dropzone. He still lives near the dropzone with his wife and daughter. At 32, he has been jumping literally half his life, and he recently became the owner of the DZ land, and the operator of the skydiving school. His ratings include Strong Tandem master, PFF Instructor, Instructor B, and Rigger A.

After five years on the Board of Directors of the St. Catharine's Parachute Club (which still operates on same land), Mike started to see that this little old DZ could sustain a bigger life. For the DZ's 50th Anniversary, Mike brought in a Twin Otter for the celebration. It was a great success as Ontario jumpers supported the Otter for the entire week. And that was when Mike started to believe that he could make his dream fly. St. Catharine's Twin Otter Boogie in '99 was equally popular, so Mike started to make a plan for something bigger: a new Canadian Record. He shared the idea with his wife, Tara, who not only provides support, but also works hard to provide behind-the-scenes organizational structure. Then Mike started recruiting help from the skydiving community.

Mike says he wants to "put Canada on the map" for big-ways. It is true. If we fly this 100-way, it will be twice as big as the largest all-Canadian formation ever built (1996, 50-Way, SWOOP). Canadians everywhere will gain new confidence and build a reputation for skill with bigger formations.

Mike also says: "I work hard at fulfilling the goals I set for myself, and this is one of them. I just thought of this, and started working on it. Then others started joining in, creating a real unity for jumpers across the country, all headed for the same goal."

The idea has caught fire as more and more people participate in the planning, and building excitement across the country.

It will be a personal achievement for Mike to put together the event successfully, and a once-in-a-lifetime achievement for many Canadians who participate with 99 others for a Canadian Record.