Index


Pearls on the Net

Features

Your Stories
Beyond Skydiving


Treasure Chest


Featured Sites

News & Articles


Current News


Competitions


Boogies & Meets


Events & Courses

NSL News [USA]

SSI Pro Tour

Safety Issues

Wanted!

World Weather


Newsletter

Skydive World

Greeting Cards

Skydive Forum

Skydive Books

Your Gallery


Contact

Archive

Guestbook

Adventure Of Your Lifetime - Cave BASE 2002
(continued)

The landing area is respectable by most BASE standards, approximately 36' wide by 90' long. It is outlined in yellow caution tape and is of decent size. Hazards inside this area are marked as well and are easily identified from the air. The danger is outside the marked landing area. Steep slopes containing thousands of rocks ranging in size from ankle breakers to Volkswagen size boulders.


© 2001 Aerial Extreme

The greatest risk in Cave BASE is that a minor injury becomes life threatening due to the length of time it takes to extract a helpless injured jumper to the nearest third world medical facility. It is "estimated" to be between 2-3 hours.

After you are satisfied with your review of the cave floor, it is time for the next and some say scariest part of the adventure, the extraction. Jumpers, two at a time, are harnessed to the rope using specialized climbing gear. Once comfortably harnessed, the jumpers are pulled to the surface by a custom-made motorized wench. Extractions take only about 10 minutes to reach the surface.
Then comes the day of the first jump! Even the most experienced BASE jumpers are gripped once their toes meet the cave's edge for the first time. Your first jump will be like a nightmare that you willingly enter. Your mind will tell you "No Way!" You will swear it can't be done. The walls appear straight down with no room to fly and you can't see the bottom, yet you still jump.

Most freefalls last between 5-7 seconds; and there is no greater feeling than the one you experience when you land that first jump. You will scream with excitement and yell with joy.


© 2001 Aerial Extreme
And with that first jump over, you can't wait to get pulled back up and do it again. But this time from a different ledge or maybe a tree? Experienced jumpers will build confidence quickly and start finding new ways to enjoy the cave by performing inverted maneuvers. Lesser-experienced jumpers will be content with flat and stable exits.

Currently the expeditions of the Aerial Extreme Team have yielded over 150 cave jumps, all without serious incident or injury. This is due to the intense training and methodical preparation that goes into each adventure.

Cave BASE is a true expedition adventure! It requires a lot of work, strong team spirit and 100% effort by all participants. From the time you leave to the time you return, you are given team responsibilities. Each member is responsible for an action packer (plastic crate) full of team equipment which will be assigned to you. You will be in charge of that action packer and its contents throughout the entire expedition.


© 2001 Aerial Extreme
Team members will also have responsibilities which include helping fellow jumpers. You may be asked to help belay, monitor wench progress and conduct rope spool recovery.

So, if you are in search of a true BASE adventure and consider yourself a team player, join the team of Aerial Extreme and take part in the BASE adventure of a lifetime - an adventure that takes you and your personal BASE experience to an all new extreme. Cave BASE 2001 is scheduled to take place March 15th - 23th, 2002 and it starts in Tampico, Mexico.

This expedition is co-organized by Randy Pacheco and Mark Lichtle and produced by Aerial Extreme, a California based Company. Their previous trips were overwhelmingly successful and provided individuals with what can only be described as a life experience.

Only a limited number of slots are available. The fourteen member expedition can only accommodate ten new jumpers for this trip. The remaining slots are taken by team leaders and hired climbing and rigging experts. Slots are awarded base on deposits. First in first on.

$2,900 buys you the wildest BASE adventure available anywhere. Included are all your expenses once you land at the final destination in Mexico. This includes transportation, hotel, food, alcohol, training, rescue equipment, rappelling and extraction equipment and best of all, a motorized wench recovery system. No two hour rope climb!

For more information, photos and a detailed schedule check out Aerial Extreme's website at http://www.aerialextreme.com/cb/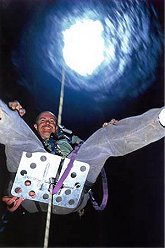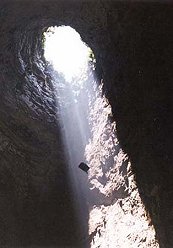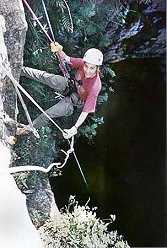 © 2001 Aerial Extreme