Skydive Index


Pearls on the Net
Millennium Expedition Review

Paul's Skydive Web

Adventure Living


Features
Sky-Eye Skydiving Services

The Drop-Out Club

Aviation Club "Navigator&quot

Your Stories
Remembering Lost Friends
AFF-1 Charlie Foxtrot
Introducing USSA
A Plea for Help


Wanted!


[updated: 05/24/00]
Staff & Jobs read more...
Team Members read more...
Stolen Gear read more...
Miscellaneous read more...


Shop Zone

Skydive World

Greeting Cards

Skydive Forum

Skydive Books
Beyond Skydiving


Treasure Chest
TrailerVision

Microsoft Monopoly
The Love Police



Featured Sites
Walk With Dinosaurs

Yesterland

Entertaindom


Archive

Contact


Not just a translation but some different content too!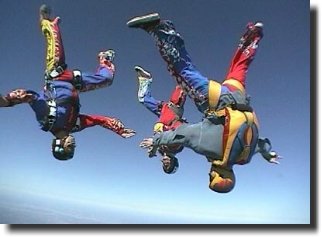 © 2000 Monkey Claw Freefly Team

50 Years Of Freefall
Skydiving Legend Lew Sanborn
Lew Sanborn became the first person to celebrate 50 years of freefall skydiving on Sunday, April 16, at 2:00 p.m. The skydive took place at the Clinton Airport, in Clinton, North Carolina, the home of his first freefall skydive in 1950. Lew has skydived every year since.

For this historical day Lew returned to the place of his first freefall skydive in 1950. He and about 25 of his closest POPS [Parachutists over Phorty] friends met up with the Golden Knights U.S. Army Parachute Team in Raeford. From there, they flew in a DeHavilland Twin Otter to Clinton and jumped into the Clinton Sampson Airport. Then they turned around and did it again at P.K. Airpark in Raeford. This skydive marked Sanborn's 5,782nd jump, just three months before his 70th birthday.

The Golden Knights (formerly the Strategic Army Corps Parachute Team) were formed in 1959, the same year that Lew was issued the first D (or Master) license earned by performing 200 freefall skydives, including a minimum of four hours of freefall time. Today Lew (D-1) has logged more than 60 hours of freefall time. The Golden Knights were thrilled to participate in honoring Lew Sanborn.
| | |
| --- | --- |
| Lew's lifetime skydiving achievements began with his first static line jump in 1949 as a Private First Class. A year later, April 16, 1950, he performed his first freefall skydive. At that time in the history of skydiving, techni- ques for stable freefall were still in their infancy and considered experimental. | Lew Sanborn |
As a pioneer in freefall maneuvers, Lew went on to devise the technique of freefall photography. Freefall-to-freefall photo- graphy is the filming of other skydivers in freefall using a helmet-mounted camera. He received an Academy Award nomination in 1960 for his freefall footage featured in the skydiving film "A Sport is Born". His work was also featured in a cover story in Sports Illustrated in 1961.

Lew went on to become the official freefall photographer for the 1962 CBS-televised Sixth World Parachuting Championships held at the dropzone he ran in Orange, Massachusetts. Freefall-to-freefall photography is still used today for all national and world competitions with hundreds of skydivers donning video helmets every day at skydiving centers around the world.
Continued on Page 2


Last Update: May 24, 2000
News & Articles


Current News
[updated: 05/24/00]

Competitions
US Nationals 2000
Style & Accuracy

Musings from the Sidelines
The Ranch Para-Ski Meet
Events at Skydive Dallas

Tracking Contest at Skydive Spaceland

Scottish Nationals 2000

More Competitions
[updated: 05/05/00]


Boogies & Meets
Memorial Boogies

Ekstremsportveko 2000

Monkey Claw Freefly Jam

Peanut Drunk Fest 2000

More Boogies and Meets
[updated: 05/24/00]


Events & Courses
Dinner and Skydive Movie

Skills Camp with Arizona Airspeed

Women's World Record Weekend

More Events and Courses
[updated: 05/05/00]


NSL News [USA]
[updated: 05/24/00]
This week in the NSL


SSI Pro Tour
[updated: 05/05/00]
What's new in the tour?
Freefly & Skysurf Events 2000

Safety Issues
[updated: 05/24/00]
German SL Student died

Low Turn killed Skydiver

Fatality in Arizona

BASE Jumper Fatality

Skydive Student killed
in Norway

Accident Reports
Six Skydivers Were Killed

How Smart Is Your Parachute

Safety News Bytes

World Weather

Guestbook

Send this Web Site