Skydive Index


Pearls on the Net


Dana Bowman's Site


BaseClimb.com


Cloud Dancer

Features


Mike Salmons


Drop Zone International


Big Air SportZ

Your Gallery


This Month's Pics


The Best of Past Issues

Your Stories


Change


My Weekend at Lodi


Night Jump


Go Vertical Review

Wanted!
[updated: 06/21/01]


Staff & Jobs


Team Members


Stolen Gear


Miscellaneous

ShopZone

Skydive Books

Newsletter

Archive

Skydive World

Greeting Cards

Skydive Forum
Beyond Skydiving


Treasure Chest


K1010


Station Location


I should be working

Featured Sites


HyperArt.com


Vidnet.com


Life on Vulcan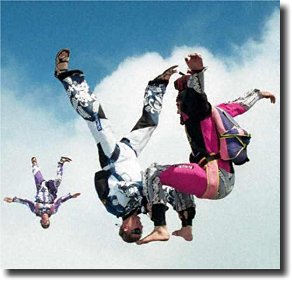 Photo © 2001 Mike Salmons

Deaf Skydivers Go For World Record!
by Billy Vance
In 1987, John Woo was reading an issue of Parachutist and came upon a "paragram" sent in by David Armstrong, who was looking for other deaf skydivers. John decided to call David by TTY, the telecommunications device used by the deaf to make phone calls. Later that year, John, David and two other deaf skydivers, Fred Goebel and Mike Boland, first met each other at the National boogie and National competition in Muskogee, Oklahoma. They jumped together as an unofficial 4-way RW team called "Silent Free Fall", but did not actually participate in the national championships. John did, however, compete in Style and Accuracy for the first time at the national championships.

Over the next seven years, John racked up huge phone bills calling major drop zones all over the United States trying to find more deaf skydivers. He managed to find a few more. Two of them, Rob Bond and Richard Bremser, joined him and Fred to compete as an official 4-way RW team at the 1994 Nationals at Deland. They finished dead last in the competition, but drew the loudest ovation at the awards ceremony. Unfortunately, Rob Bond made his last jump there and promptly retired from the sport, the victim of a near-collision with the videographer during the deployment sequence. The excitement soon quieted down and the deaf skydivers went their separate ways. With so few of them living so far apart, it was difficult to keep up with each other. At that time, the Internet was still developing and many people did not have email. All of that would soon change within a few years.

I started skydiving in 1993. It would not be until 1997 before I was given an opportunity to meet another deaf skydiver. While participating in the unsuccessful Alabama state record attempts in January 1997, I met the organizer of the record attempts, Sandy Wambach. She told me about how John Woo was a friend of hers and followed her state record circuit around the eastern United States, and that she would help me get in touch with him. Soon I had his email address, and we hit it off immediately. It turned out that we shared the same goals and dreams for deaf skydivers.

After years of feeling burned out from trying to reach other deaf skydivers, John felt rejuvenated and motivated again. With powerful communication tools now at our disposal--the Internet and email--we set out to search for other deaf skydivers. We also met for the first time in May 1997 in Georgia for the state record attempts which Sandy Wambach was organizing at Skydive Monroe. The 64-way state record set then was the first ever large formation record with more than one deaf skydiver participating. We are also believed to be the first deaf skydivers to complete a 100-way or larger formation at the New Jersey record attempts later that same year.
Continued on Page 2...

Last Update: June 22, 2001
News & Articles


Current News


News


NewsBytes
[Updated: 06/21/01]

Competitions


World Air Games 2001


German Skydiving League


Mini Meet Germany


World Games 2001


More Competitions
[Updated: 06/21/01]

Boogies & Meets


World Freefall Convention


Swedish Friflaj Festival


Para Summer 2001


German Freefly Festival


More Boogies and Meets 1


More Boogies and Meets 2
[updated: 06/21/01]

Events & Courses


New York CRW Record


Airspeed Camera Camp


Flyboyz Freefly Skills Camp


Kamchatka Expedition


Airspeed Skills Camp


More Events
[updated: 06/21/01]

NSL News [USA]


This month in the NSL

SSI Pro Tour


What's new in the tour?


Worldwide Events 2001
Freeflying & Skysurfing

Safety Issues
[updated: 06/21/01]


Fatality Reports


Couple Survived Tandem
Malfunction


A Few Lessons Learned


Wingsuit Safety


Becoming an Experienced
Convention Skydiver



Contact

World Weather

Guestbook

Send this Web Site