Index


Pearls on the Net

Features

Your Stories
Beyond Skydiving


Treasure Chest


Featured Sites

News & Articles


Current News


Competitions


Boogies & Meets


Events & Courses

NSL News [USA]

SSI Pro Tour

Safety Issues

Wanted!

World Weather


Newsletter

Skydive World

Greeting Cards

Skydive Forum

Skydive Books

Your Gallery


Contact

Archive

Guestbook

Deaf Skydivers Go For World Record!
(continued)

Our search for other deaf skydivers continued as we gathered again and again for Sandy's record attempts. This kind of exposure made us well known across the country. Eventually, other deaf skydivers, as well as new ones just starting to jump, started coming out of the woodwork. I started receiving emails from new deaf skydivers nearly every other month, especially after five of us gathered in Suffolk, Virginia, to set an American record, which was featured in Parachutist early last year.


Author Bill Vance

Late in the summer of 2000, John Woo and I developed plans to hold the Deaf World Record attempts which we decided to co-organize. The state of Texas is home to five licensed deaf skydivers and soon, a sixth one. Texas is also centrally located in the U.S. so, naturally, we focused on the drop zones there. By Fall 2000, Skydive San Marcos was picked to host the record attempts with the help of Marc Rubin, their own deaf skydiver. By that time, I had become a newlywed and, as a result, barely had enough free time to get things coordinated with Skydive San Marcos. Marc offered to take over the reins as far as setting things up and recruiting the support staff at the DZ, and keeping John and me updated on developments. It was easier because he knew everybody there, and he has done a great job so far. John and I could just manage the personnel and the dive formations.

In March 2001, Skydive San Marcos sent out flyers to deaf skydivers around the world with known addresses to announce the Deaf World Record and get us to start signing up. By the end of May, 14 deaf skydivers were committed! That will double the existing world record 7-way set by six Australians and one New Zealander several years ago. We are still trying to recruit one or two more people for the record attempts, though we will have two other deaf skydivers that will be there with us, but may not participate in the record attempts. The list of committed participants are:
Billy Vance - Alabama
Jane Chapman - Florida
Lesley Weisbrot - Maine
John Woo - Maryland
Michael Haines - Pennsylvania
Michael Sweet - Pennsylvania
Andrew Christain - South Carolina

David Armstrong - Texas
Mike Boland - Texas
Fred Goebel - Texas
Marc Rubin - Texas
Charl de Villiers - Texas
Mitch Phillips - Utah
Mitsuhiro Masuda - Japan
Just five years ago, there were only seven known deaf skydivers in the U.S. Now, there are over 20, with at least three new ones currently undergoing or about to start training. We have come a long way. At the Deaf World Record attempts, we will dedicate our efforts and possible new record to the late Sandy Wambach, without whom none of this might have been possible.

The record attempts will take place August 30 - September 3, 2001. For more information about the event and "Silent Free Fall" contact Billy Vance at bvance@acipco.com and check out his website at http://members.aol.com/deafskies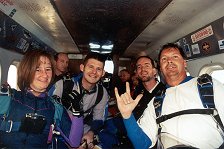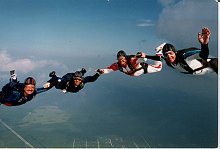 Deaf skydivers riding to altitude..........and having fun in the air.