(continued)

Al Krueger says about Pieces of Eight, "People see the obstacles that these guys have overcome, it is amazing!" Krueger, believes that the members of Pieces of Eight have a 'can-do attitude'. They are an inspiration not just to skydivers but to others, and to one another. It is amazing to be able to see this group fly their slots, and keep a good fall rate!"


Photo © 2000 Tom Sanders
Men (and woman) with a mission

One of the ways members cope best with their situation is humor. It has been said, "If you can't laugh at yourself, who can you laugh at?" Perhaps this is why the members of this group are so jovial! One person full of laughter and energy is Dan Dalton from New Brunswick, New Jersey. He speaks very openly about diverse topics ranging from demo jumps to losing his own leg in a motorcycle accident. The humor is what helps members old and new to relax and learn to enjoy the dives.

One of the better known members of Pieces of Eight, is former Army Golden Knight Dana Bowman. Bowman, as many of you may recall, was the skydiver who lost both of his legs during a demonstration practice with the Golden Knights in Arizona. He later astounded the nation by re-enlisting into the Army. It is determination like this that you have to admire!

For member Dave Barr, besides being in this one-of-a-kind group, his disability has brought him to achieving another'first': Dave is the first double-amputee to have traveled around the world on a Harley Davidson motorcycle making him only one of 75 or so people to accomplish such a task.

Member Robert Vineyard from Texas believes Pieces of Eight taught him a lot about teamwork. Vineyard lost his leg in a "hook turn" accident while he was piloting a high-performance canopy. "It was stupid," he explains, " but you can't cry about it." Robert not only has the support of his friends but also the support of his family behind him from both his mom, Martha, and sister, Michelle, (a skydiving freestylist). It is unbelievable to know that after he lost his leg, it took him only 2-1/2 months before he went skydiving again. He was determined not just to walk but also to jump.
| | |
| --- | --- |
| | One of the newer members-the first woman on the team-is Amy Plagge. Amy, who has been skydiving since 1997, lost her foot at 12 years old when she was hit by a car. Amy says that joining the group is especially important to her because, in her words, "I don't know any other amputees let alone amputees who I can talk to about skydiving concerns (e.g., booties)! What a fantastic group for me to be a part of!" |
(Dis) Membership has its privileges!

Before any of the team is allowed to jump, they are required to be current (having a reasonable amount of jumps in the last several months and holding a current USPA license).
For this team, you would think they were professional athletes training for a major event. But to them the event is "LIFE"! They do the best that they can with the situations that they are presented. It just goes to show that the "human spirit" is alive and well, and that these people are determined to accomplish their goal of living fully.

Every year, the group has an annual event where they plan for a weekend of fun and also to make several attempts at setting a new record with the largest formation of amputees in free fall. And each year brings more new members. For the past four years, members have been getting together for demo jumps in Fayetteville, North Carolina. This year alone, several of the members traveled from California, Kansas, Texas, Florida, Maryland Washington and North Carolina.

Team member, Ron Visser arrived from the Netherlands, just to jump in the demo. Visser, like many of the other team members, is always happy to jump with his fellow amputees. He is also in contact with several amputees in Russia. Visser travels the distance because it gives him and the team the opportunity for shop talk, where they talk about the latest developments in prosthetics. It also gives them a chance to give each other support concerning the loss of a limb.
This year's event was sponsored by the Physicians Total Rehab which organizes the annual "Stampede", and acts as hosts to one of the largest events for the handicapped in the country. It is so big that one of the runways at the Fayetteville airport is closed just to hold the event. Wheelchair races and endurance runners are held as two skydiving demos take place above the crowd.

In 1998, the members of Pieces of Eight officially made a 14-way skydive and held it for longer than three seconds. It is the largest formation that they have made as a team. This year they were trying to beat that record, but did not have enough people.

Many people have the same question, "How does a person who is missing a leg fall stable?", or "How do they land?" The answer is determination and balance.


Pieces of Eight - Photo © 2000 Tom Sanders


14-Way Record Jump 1998 - Photo © 2000 Tom Sanders
These people are out to master the skills that others take for granted. When they land, many of them land better than other recreational skydivers-but sometimes not all of them land gracefully, and a few of them take a spill. This support group works hard at promoting safe skydiving, and shows that the human spirit will prevail. The team gives each other guidance on how to fly in a controlled descent and how to build a formation.

Photo © 2000 "Oscar" Oczkowski

Member Keith Ragusa of Washington says "Mainly this is not a problem when we skydive with those who are not amputees, but when everyone is an amputee, placement is critical to making the skydive work." One of the most interesting things about Pieces of Eight is that they work as a team and accomplish the goals that they set out.

World renowned cameraflyer Tom Sanders (see this month's "featured photographer" for more on Tom) has been working with the team since the late 1980's. In the future, he plans on putting together another movie/video which will include some of the footage from skydives made by Pieces of Eight. Other cameraflyers have included Dave Majors, Oscar Oczkowski and Darren Preston Lane.
The future for Pieces of Eight is "up in the air". Tentative plans were being made by Australian Ken Taylor to have the team jump into the opening ceremonies of the 2000 Paralympics. Ken tells us they had been working on the idea of providing a display as part of the Paralympic Ceremonies. But now there is a high likelihood that this will not occur due to the fact that there are concerns about the wind activity within the Australia Stadium. Previous displays into the stadium have identified that there is reason for concern and the Paralympic Committee are certainly NOT risk takers!

That won't deter this intrepid group of skydivers! The goal and mission of Pieces of Eight is to let other amputees know that they are not alone. That there are groups and organizations out there which do not discriminate, regardless of age, gender, color, religion or the loss of a limb. Pieces of Eight is one such group that should be commended regardless of world records, regardless of missed chances at Paralympic jumps. Through this group and the examples of their lives, they show the world that the "human spirit" is not dead! And this group of people are living proof!

by Darren Preston Lane [darrenprestnlane@hotmail.com]
and Trisha Riga [trisha@skyXtreme.com]

Contact Pieces of Eight: Al Kruger (Group Spokesperson) - Alkruger@aol.com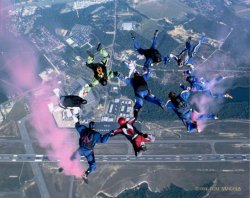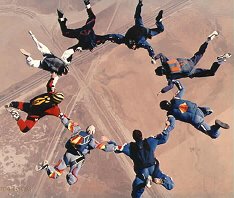 "Pieces of Eight" Demonstration Jumps - Photos © 2000 Tom Sanders
Click on the below photos to see enlargements!